automatic test machine solutions
TQC manufacture specialised test machine solutions and special purpose test machine equipment. Function testing, performance testing, durability test and production test applications have been supplied to the automotive, engineering electrical and other associated industries. This test machine expertise is combined with TQC's automatic and robot assembly capability to enable complete turnkey assembly and test machine systems to be produced to suit each customers requirements.
The result is a service to industry, which can offer complete quality assurance testing using the most modern technology and test equipment. TQC has an enviable reputation for providing both quality equipment and superb back-up.
quality assurance testing
| | |
| --- | --- |
| | Motors and mechanisms |
| | Fuel, water and oil pumps |
| | Distributors & ignition systems |
| | Shock Absorbers |
| | Sensors and transducers |
| | Clutch units |
| | Lighting and switches |
| | Valves |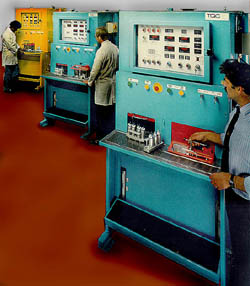 TQC can provide equipment to test combinations of any of the following:
Speed, Torque, Voltage, Current, Resistance, Power, Pressure, Flow, Air/vacuum decay leak testing, Function testing, Performance testing, Production testing, Durability testing, Gas trace leak testing, Electrical High Voltage Flash testing, Environmental testing, Noise vibration, Distance and rotation, Frequency, Inductance and Capacitance.
Every aspect of electrical, mechanical and software design, together with project development and manufacture is conducted on-site, enabling us to take full responsibility for your projects. Computer listings of parts, wiring diagrams and other maintenance information means that TQC can offer you a first class after-sales service.
test machine solutions capabilities
TQC combines extensive experience with a modular approach. The best modern data capture methods and proven software techniques are engineered into your production environment to provide reliable and easily maintainable equipment.
| | |
| --- | --- |
| Speed | Noise and vibration |
| Torque | Distance and rotation |
| Voltage | Inductance and capacitance |
| Current | Frequency |
| Resistance | Power |
| Flow | Pressure |
| Temperature | Force |
If you have a current project that you are already looking at, or you are considering improvements to your production in the near future, call us and we will be happy to offer our professional advice & visit you at your site.
Feel free to contact TQC using the links below.
TQC Ltd, Hooton Street, Carlton Road,
Nottingham, NG3 2NJ, United Kingdom
Tel: +44 (0)115 9503561
Fax: +44 (0)115 9484642
E-mail: sales@tqc.co.uk